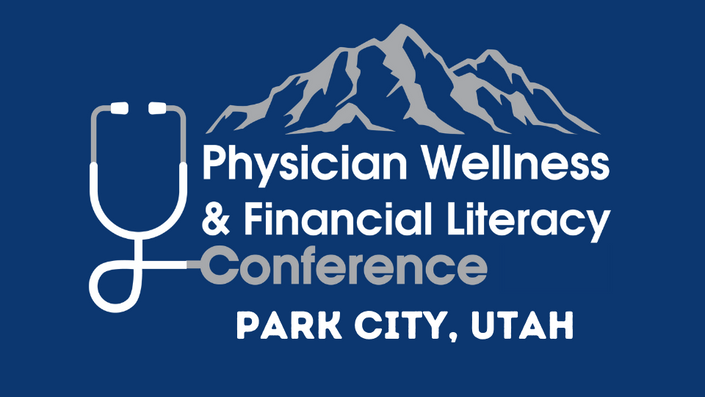 Physician Wellness and Financial Literacy Conference- Park City
Continuing Financial Education
On March 1-3, 2018, 300 physicians, dentists, and other high income professionals met in Park City, Utah for the first-ever Physician Wellness and Financial Literacy Conference. It was a wonderful time with receptions, informal dinners, and skiing, but it also included 12 hours of lectures, a panel of physician financial bloggers, and a book signing event.
The lectures and blogger panel were recorded and compiled with slides, if used, into this online course, which is now made available to you to watch on any device at any time convenient to you without requiring expensive or inconvenient travel to Park City.
Lecturers include William Bernstein, Jonathan Clement, Mike Piper, Nisha Mehta, Lawrence Keller, Bonnie Koo, Leif Dahleen, Sarah Catherine Gutierrez, and James Dahle.
Feedback from the conference was nearly universally positive, with 99% of attendees who felt the conference was a good value for their time and money and 100% who would recommend it to their physician colleagues. Comments from attendees include:
The topics...were all interesting and pertinent...and the variety of topics kept things interesting throughout the day. It was also nice leaving some time for questions and comments from the audience...Very impressed with you and your organization.

Highlights for me were Mike Piper's lectures, Jim's lectures, Clement's lecture

I felt that the lectures contained information for those of all levels of understanding...the speakers were all great and friendly.

Dahle's and Clements' talks were outstanding and thought-provoking.

[Loved] Gutierrez's lecture

[Enjoyed] the opportunity to solidify financial theories and topics that we only read about

[I liked] the deeper dives into investing, corporate structure, Medicare, social security, insurance. Many of the specific items I liked were presenter's opinions.

The presenters were all outstanding. There was a lot of content, and I would come back even if all the talks were the same to make sure I get it all! I would also bring my non-physician husband.

Solid curriculum

The quality of speakers was phenomenal
Your Instructor
James M. Dahle, MD, FACEP is a happily married father of four, a military veteran, and a practicing emergency physician. He is the founder of The White Coat Investor website, the author of The White Coat Investor: A Doctor's Guide to Personal Finance and Investing, the creator of an online course, entitled Fire Your Financial Advisor: A Step by Step Process to Designing Your Own Financial Plan, the host of a popular podcast and videocast, and a columnist for ACEP NOW. His work to "help those who wear the white coat get a fair shake on Wall Street" has been featured by CNN, Forbes, The New York Times, and dozens of other websites. He regularly speaks to groups of physicians and dentists all across the country. He prefers to spend his spare time in the mountains and canyons of his home state of Utah.
Bonnie Koo, MD, FAAD is a practicing dermatologist and a former technology associate at Morgan Stanley. She is a moderator for the Facebook group "Women Physicians Personal Finances," the largest online group of women physicians interested in taking control of their finances. She blogs at missbonniemd.com and co-hosts the podcast series "Friends Talk Finance" with Dr. Carrie Reynolds of the Hippocratic Hustle podcast. She lectures on personal finance to medical students and physicians to empower them to make the right decisions. She did her undergraduate work at Barnard College, attended medical school at Columbia, and completed residency at the University of California, Irvine. She lives in Philadelphia with her fiancé and son.

Sarah Catherine Gutierrez is the founder of Aptus Financial. She holds a BA from Salem College, an MPP from Harvard University, and the CFP designation. She founded Aptus with a clear vision: be a true fiduciary to your client, charge a fair price for professional advice, and be transparent and non-conflicted. Her focus is on educating clients to manage their own money. She is a permanent trustee for the Donaghey foundation and a Past President of the Rotary Club of Little Rock. SC earned the Barbara Jordan leadership award from the Women in Public Policy Program at Harvard and the 2017 Young Alumnae award from Salem College. She is also a graduate of Class 29 of the Leadership Greater Little Rock Program and a member of the International Women's Leadership Forum. She is the in-house financial educator for medical students and residents at the University of Arkansas for the Medical Sciences. She is married with three children under five and her greatest joy is time spent with the family at home or traveling abroad.
Nisha Mehta, MD, is a practicing radiologist, writer, and speaker whose interests lie in work-life balance, physician networking, and health policy. Her work on physician burnout and wellness, women in medicine, and other issues regarding life in medicine have been featured on Forbes, KevinMD.com, Doximity, and the Radiology Business Journal, amongst others. She founded the Facebook group Physician Side Gigs for physicians looking to supplement or replace their traditional clinical income, and writes a monthly column for medical students with Thieme Medical Publishers. Dr. Mehta holds a Bachelor of Science degree from Brown University and an MD from the University of Pennsylvania, and completed her residency and fellowship training at New York University and University of North Carolina at Chapel Hill, respectively. She now lives in Charlotte, North Carolina, with her physician husband and two sons.
Jonathan Clements is the founder of HumbleDollar.com and author of seven books, including his latest, "How to Think About Money." He sits on the advisory board and investment committee of Creative Planning, one of the country's largest independent financial advisors, and is involved with a financial startup. Born in England and educated at Cambridge University, Jonathan spent almost two decades at The Wall Street Journal in New York, where he was the newspaper's personal finance columnist. He also worked for six years at Citigroup as Director of Financial Education for the U.S. wealth management business.
Mike Piper is the author of nine financial books as well as the popular blog ObliviousInvestor.com. He is a Missouri licensed CPA. Mike's writing has been featured in many places, including The Wall Street Journal, Money, Forbes, MarketWatch, and Morningstar.
William Bernstein is a neurologist, co-founder of Efficient Frontier Advisors, an investment management firm, and has written several titles on finance and economic history. He has produced three finance books, The Intelligent Asset Allocator, The Four Pillars of Investing, and The Investor's Manifesto, and also two volumes of economic history, The Birth of Plenty and A Splendid Exchange, the former about the economic growth inflection of the early nineteenth century, and the latter a wide-angle look at the history of world trade. A third history book, Masters of the Word, from Grove/Atlantic Press, explores the effects of access to technology on human relations and politics.
Lawrence B. Keller, CFP®, CLU®, ChFC®, RHU®, LUTCF is a CERTIFIED FINANCIAL PLANNER™ professional and the founder of Physician Financial Services, a company dealing exclusively with the financial needs and concerns of members of the medical profession. He has spent the last twenty seven years providing disability and life insurance products to resident, fellow and attending physicians at all stages of their careers.
Leif Dahleen is a practicing anesthesiologist, father to two rambunctious boys, and husband to his lovely wife Rayce. He attended the University of Minnesota for his undergraduate and medical school education, completed an internship at Gundersen Lutheran in La Crosse, Wisconsin and finished his residency at the University of Florida in 2006. Through various locum tenens and temporary positions, he has practiced anesthesia in Florida, Wisconsin, Pennsylvania, Michigan, South Dakota, and Minnesota, where he has been living and working for the last five years. A decade into his career, he realized he could be considered financially independent. He now works part-time, travels extensively with his family, and maintains the Physician on FIRE website.
Frequently Asked Questions
When does the course start and finish?
The course starts now and never ends! It is a completely self-paced online course - you decide when you start and when you finish.
How long do I have access to the course?
How does lifetime access sound? After enrolling, you have unlimited access to this course for as long as you like - across any and all devices you own.
What if I am unhappy with the course?
We would never want you to be unhappy! We offer a no-questions asked refund for 7 days after purchase. However, due to previous behavior by other course purchasers (who took all or most of the course and then asked for their money back), we will not offer a refund if you have already watched more than 25% of the course/videos.